See the latest Alne league results by clicking here.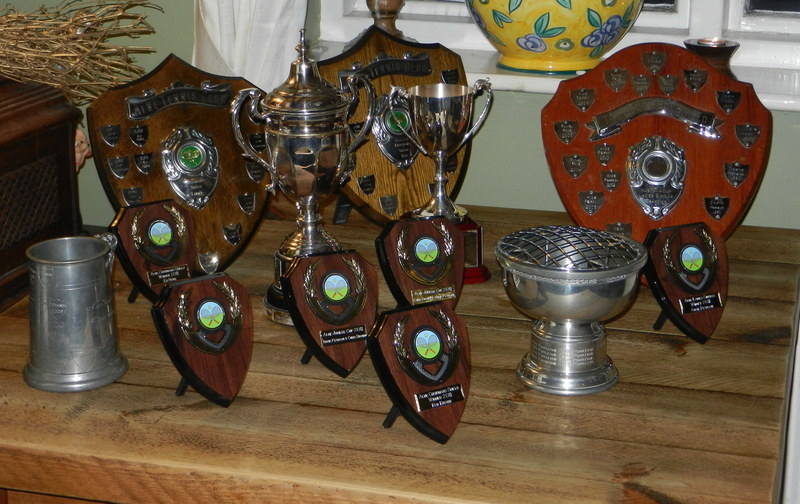 Some of the trophies that can be won at Alne Tennis Club.
Three County-Standard Tennis Courts are situated on the Alne Recreational Field at YO61 1TJ. All the courts are double-layer, porous tarmac with a guarantee of being fit for play within fifteen minutes of the cessation of rain. All the courts are floodlit, management of the lights being through a card system.
In 2015, we will be running six teams in the local leagues, three mixed teams, two men's teams (one of which will be primarily for student members) and one ladies' team, so there is ample opportunity for all members to take part in league tennis if you so desire.
We have two adult/student club sessions a week (all year round), from 7:30pm on a Wednesday and from 4:30pm on a Saturday. There is always an organiser on duty. Regular club tournaments are also held. Update for winter 2015/16. Club sessions are now joint with Tollerton at 7:00pm at Alne on a Wednesday and at 1:30pm at Tollerton on a Sunday.
To join Alne Tennis Club, contact Robert at brech28@btinternet.com
View the historical winners of the Alne Tennis Club trophies by clicking here.
View the latest Hovingham Mixed League tables and information by clicking here.
View the latest York & District Mixed League tables by clicking here.
View the latest Tyke Petroleum Men's League tables by clicking here.