2017 Presentation Dinner
A record 69 people attended the annual presentation dinner at the Durham Ox, Crayke, on 16-October-2017. Prize-winners were as follows:
1. Special Award to the Brotherton Cup organiser, Tony Howat

2. The Brotherton Cup winners: Stephanie and Giles Bilton (Hovingham A)

3. Ladies' Cup: Kirkbymoorside B
4. Youngest regular pair (34 years): Clara and Ed Reeves (Malton)

5. League Division 3 Cup : Terrington B


6. Knock-out Cup: Kirkbymoorside A

7. Special award to Dennis Myers (non-playing captain of Alne B) for his unswerving support for the league and its teams
8. Junior Player of the Year: Tom Jones (Raskelf). Other juniors mentioned in despatches were Emily McDonald (Alne),
Jude Dixon, Clara Reeves & Evie Ellis (Malton), Lucas Histon (Pickering), Annabel Ellis (Raskelf) and Emily Johnson (Tollerton).
9. Most games scored in 2017: Alison Myers & Jude Dixon with 215

10. Heroes Award. Turned out for all 18 matches but still got lowest points: Viv Cooper and Raskelf C
11. Division 2 Cup: Terrington A (unbeaten)

12 . Division 1 Cup: Kirkbymoorside A.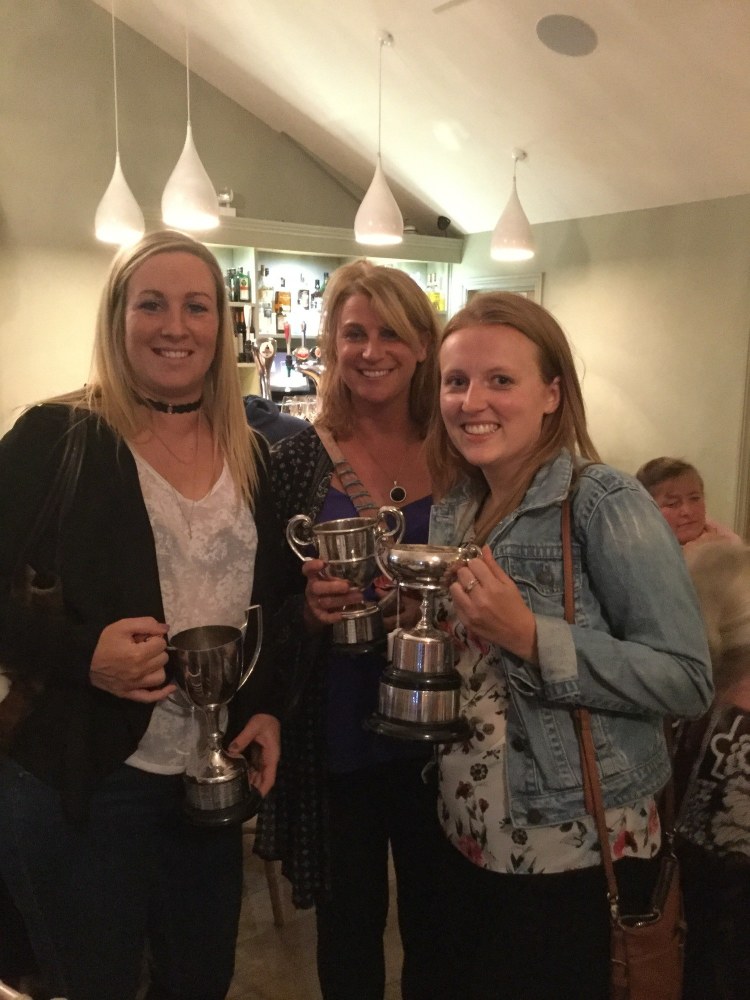 Kirkbymoorside celebrate their three trophies
2017 Brotherton Cup Results
The Brotherton Cup Results:
Winners: Stephanie Bilton & Giles Bilton (Hovingham)
Runners-up: Suzi Scott-Rix & Steve Broughton (Alne)
Semi-finalists: Sarah Smelik & Nick Bentley (Coxwold); Lynn Mansfield & Jamie Fewster (Pickering).