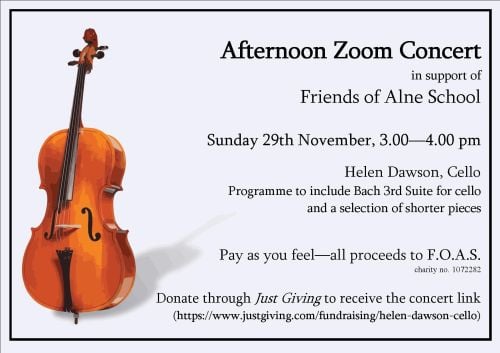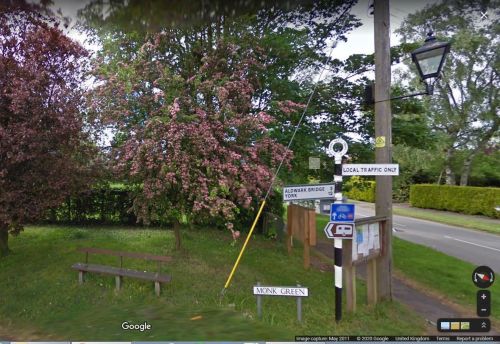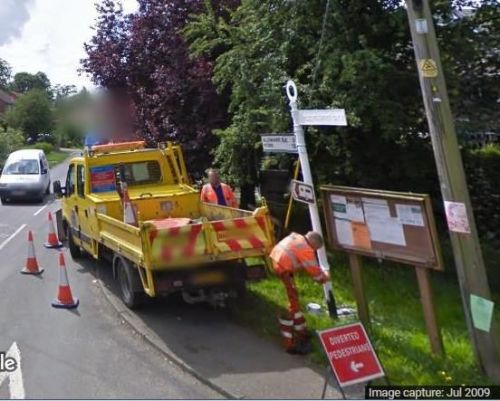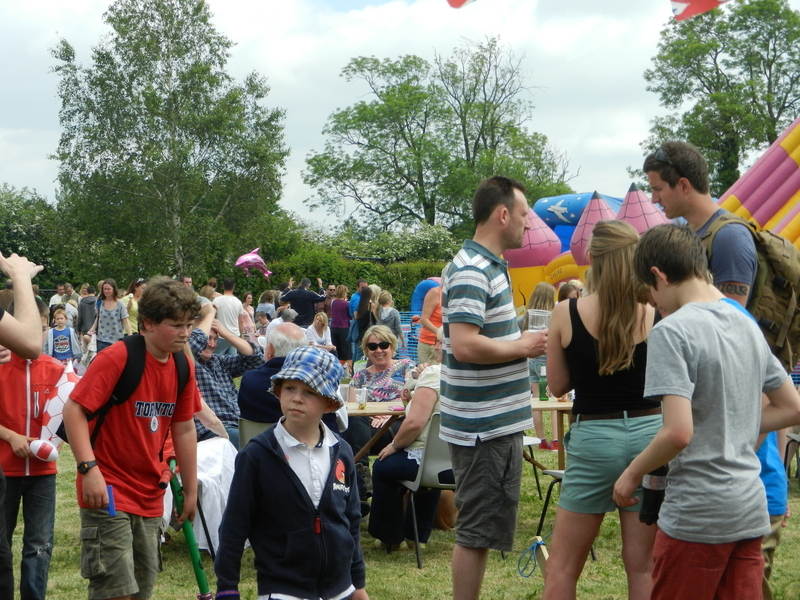 The next Alne Street Fayre is on Sunday 13-June-2021.
Click here to go direct to the Street Fayre website
The News Archive is to be found on a separate page under the History tab.
See the Calendar of Events for forthcoming items of interest. Also, please let us know of any events that are planned and we will include them.
This village site is organised and paid for by Alne Parish Council but it is not a Parish Council website.
If you find anything out of date or incorrect, please tell us through the Contact page. Thank you.
Latest news from Alne Village:
18-Nov-2020: Free medlars available to make medlar jelly. Click here.
14-Nov-2020: Alne Primary School is in desperate need of new IT equipment to help deliver virtual lessons during the pandemic. The Friends of Alne School's target is to raise £2,500 for ten new Google Chrome Books. All proceeds from the concert (see poster on left for how to donate and receive the concert link) will go towards this fundraising drive. If you would like to make a further donation or can help in any other way please contact [email protected]
06-Nov-2020: Further to the activities of the "phantom arm-twister" referred to on 18-Jan, (click here), NYCC Highways have this week visited the signpost at the central village crossroads and confirmed it is indeed pointing correctly. Historical photos from Google Street View in 2011 and during the Highways re-paint in 2009 are also shown on the left.
29-Oct-2020: The Becky Mills Concert on 7th November. at Alne Village Hall has been cancelled. Click here for more information.
26-Oct-2020: North Yorkshire County Council have the respon-sibility of replacing the footbridge over the River Kyle between Alne and Tollerton that was swept away last February. The good news is that they plan to replace this with a future-proof structure similar to the one that exists on the footpath between Tollerton and Youlton. The bad news is that they do not have funds until next financial year and that it may be 12 months before it is actually done. The possibility of putting the existing bridge back in situ as a short-term measure has been looked at but there are concerns about the state of both the bridge deck and the foundations and the ensuing potential liabilities.
If the absence of this bridge is annoying you, please write to the NYCC Public Rights of Way Officer, Andrew Brown, at [email protected] expressing your concerns. Public opinion might help to get it done sooner rather than later.
26-Oct-2020: Click here for the November Parish Newsletter (in full colour!)
08-Sep-2020: Allium Energy have applied for planning permission to erect a new portal-framed building. within the existing Material Recovery Facility, to house a combined heat/power operation [CHP]. The CHP plant is an expansion of the existing bio-mass activities on site and will be generate Heat and Power from forest residues and refuse-derived fuel. The green power and heat from the CHP will be exported to Forest Poultry and York Handmade Brick, making both operations Carbon Negative and truly sustainable in energy terms. For details of the proposal, see NYCC NY/2020/0117/FUL.
03-Aug-2020: Over the last few years, there have been numerous complaints about the dangers and congestion at the Village Hall corner particularly during school drop-off and pick-up hours. Your Parish Council has agreed with the school and NYCC Highways to help solve the problem with yellow lines on the corner and separate bus parking arrangements. A process is in train to agree the details and a public consultation is being organised by NYCC. It is hoped that all Alne residents will support these proposals as being in the best interests and safety of all concerned. It should be noted that the timescale of this process is likely to be protracted but that it is not within the control of Alne Parish Council.
Alne Coronavirus Support Group: If you need help, please contact David Edwards, the central co-ordinator, on 833269, 07583-377276 or [email protected]
Have you missed a recent item? The 2020 News Archive is located under the History tab.