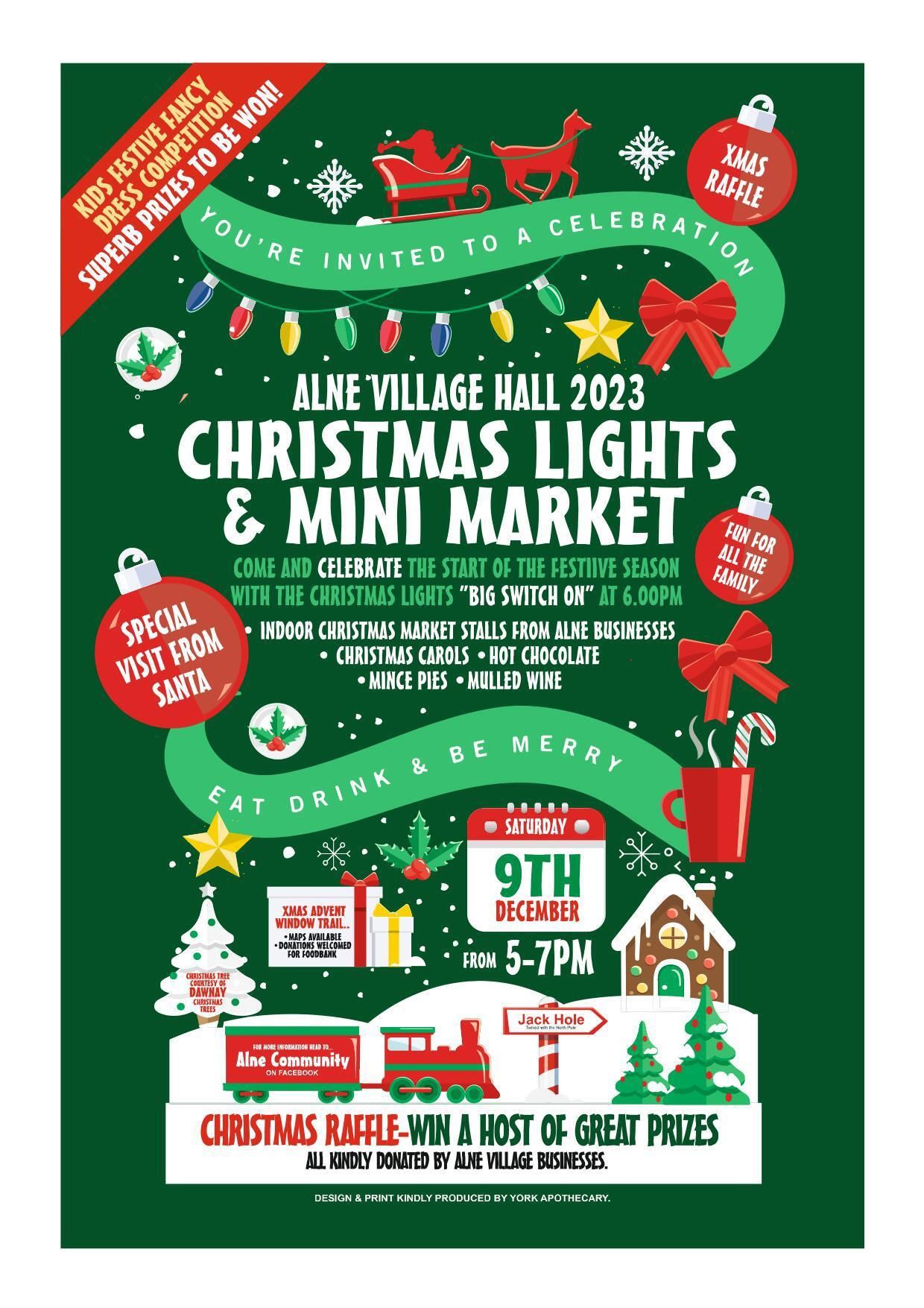 23-Nov-2023: Click here to read the December/Janiary Parish Newsletter (in full colour!).
23-Nov-2023: The end of January is the last chance to add your historical information to the 2024 edition of Alne Annals. See the item for 05-July below. Do you have a postcard or photo collection which Robert could look at and see if there are new views and/or insights which could be used. Or interesting histories of your grandparents or house in Alne? If so, please contact Robert on 07724-185661 or [email protected]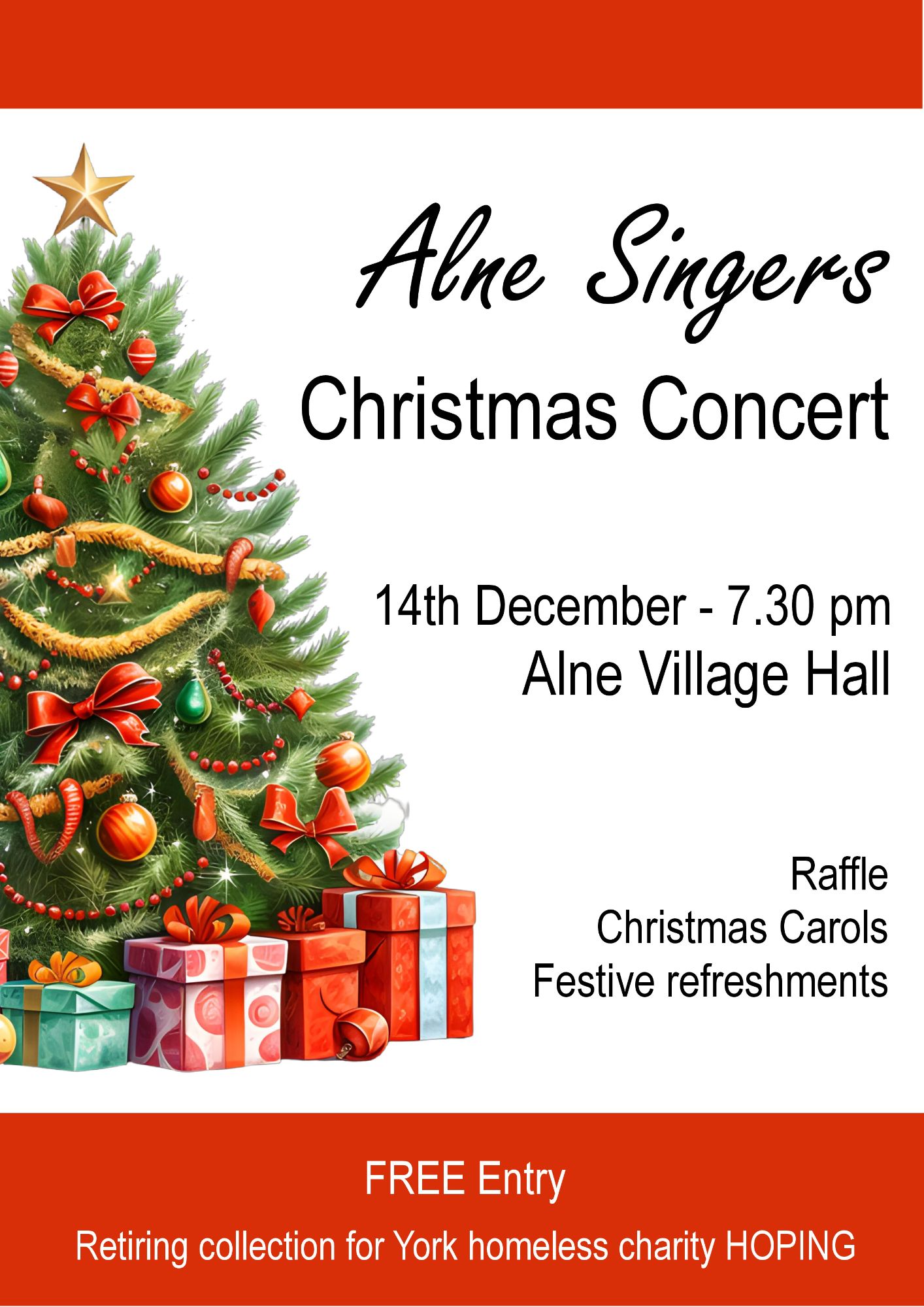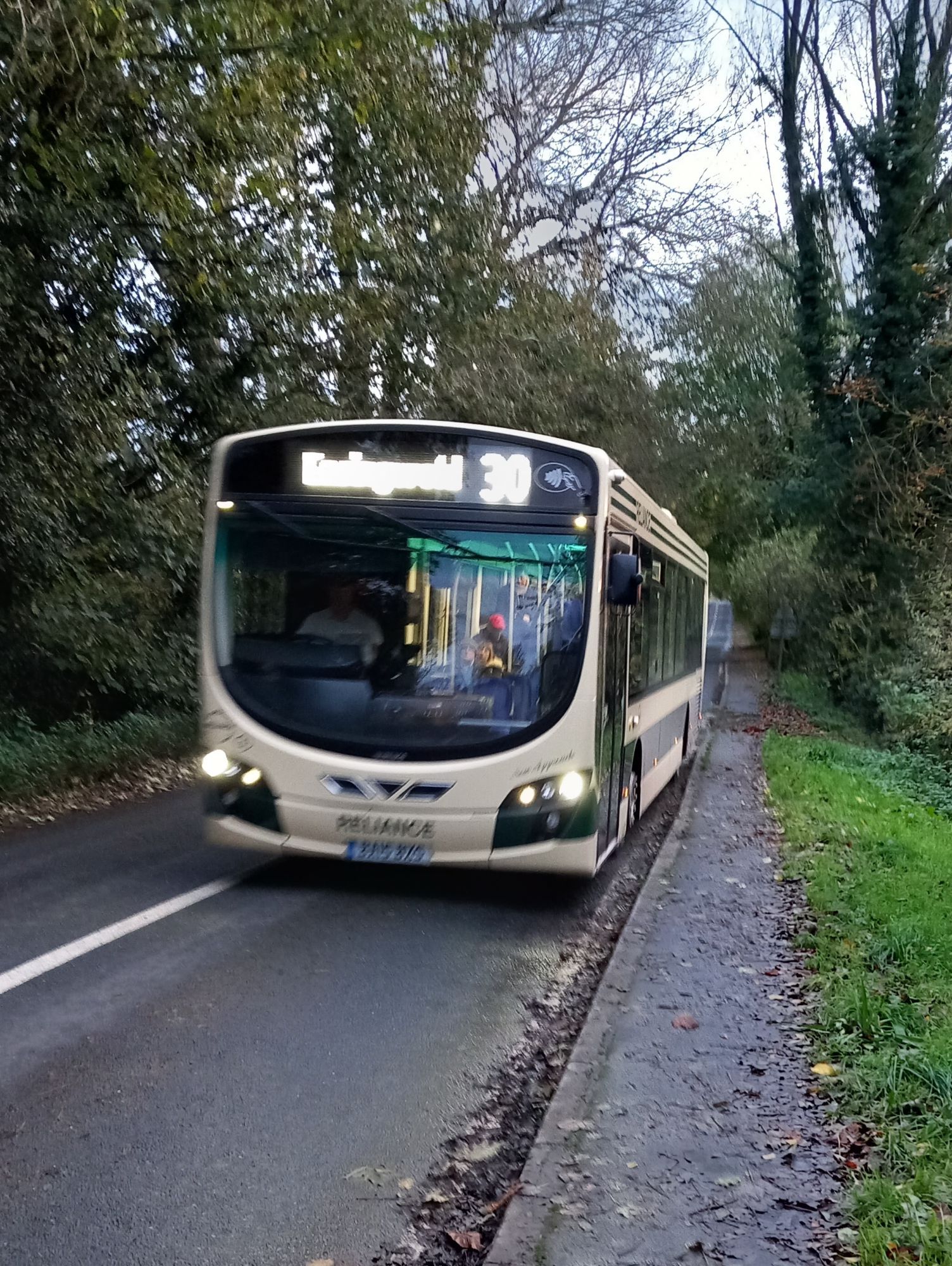 18-Nov-2023: I have come across the report of the court case following the serious accident at Alne Cross on Good Friday this year. To read it, click here. [Thanks to Youlton Parish]
05-Nov-2023: The antepenultimate Alne Sunday bus is pictured on the left. The 15:45 out of York approaches Alne at 16:10 en route to Easingwold. After today, Sunday buses in Alne will only be a distant memory. See the item for 26-October below.
05-Nov-2023: Please be aware of the Home Library and Information Service, run by Easingwold Community Library. Books, DVDs and audio items can be delivered to your door. See the poster on the right.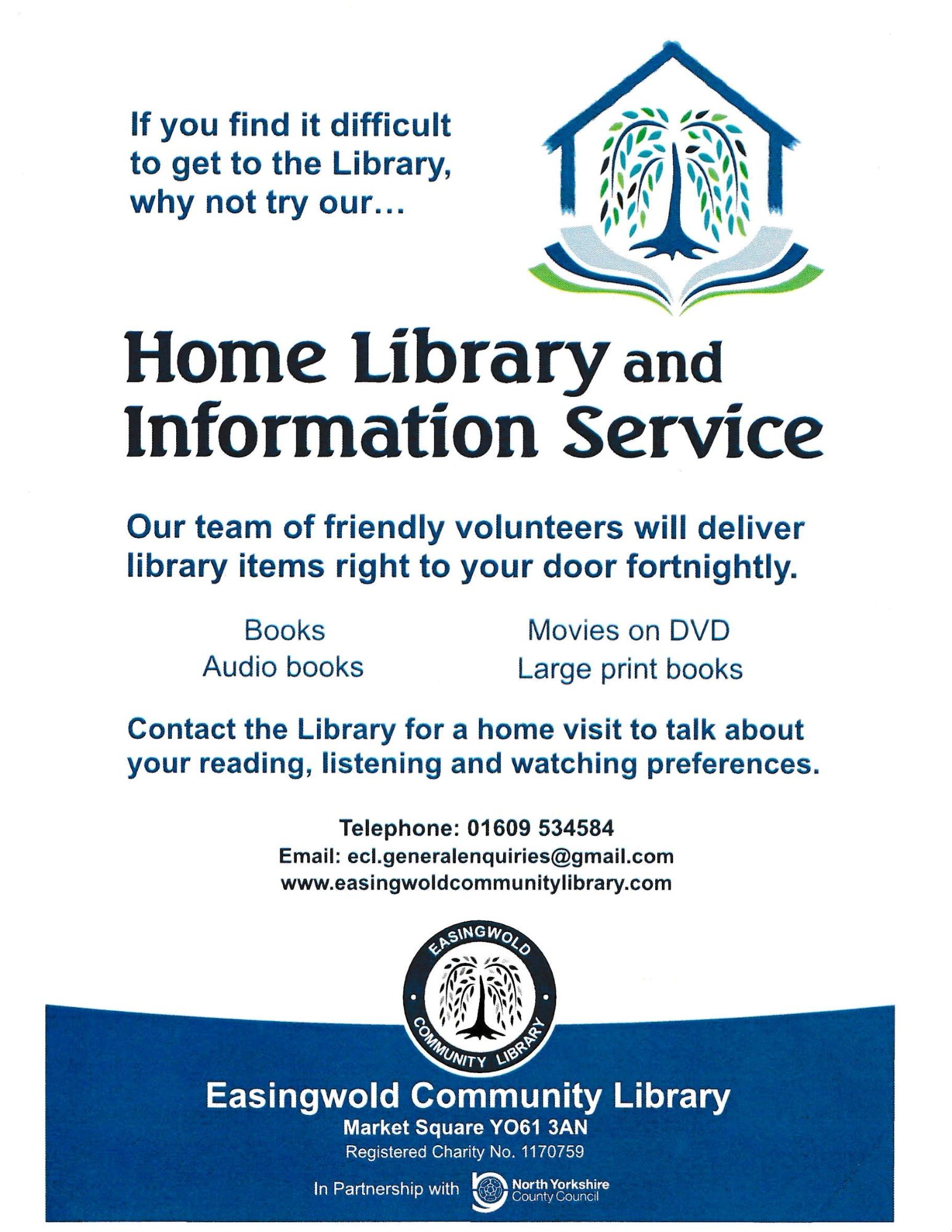 30-Oct-2023: Alne Recreation Ground – Update

Thank you to all those who responded to the consultation in the summer about possible improvements to the Recreation Ground. This is an update on developments since then. At their meeting in October the APLA Trustees agreed a report on immediate and future development for the Ground. They allocated an initial spend of around £16,000 to try to get some immediate work done for improvements. The biggest priority is the Play Area which will get a new 'Bee Springer' for toddlers as well as new seats for the seesaw. The ZIP Wire is to have a total makeover and the ship will get a new woodchip cushion fall surface to replace the existing grass and very muddy floor. The Carousel will get a new safety pad around its perimeter. The Musical Chime, which sadly passed away in the summer, will be replaced and the sand pit will be made bigger so that 3 or 4 children can play together. The Trim Trail will get new tyres as their treads are well below the legal limit! We are hoping to get some volunteers to help to put preservative on the wooden equipment. Some of the most urgent work is scheduled to start w/b 13th November.
In other news, we are getting a Tree Surgeon to start the process of tidying up the Orchard Area and may be looking for volunteers soon to help with the less specialised jobs! The existing rabbit fences will be repaired so hopefully fewer holes in the field.
Alne Parish Council have agreed a grant of £8,500 to support the remedial work and County Councillor Nigel Knapton has agreed to put in a further £1,000 from his NYC locality budget to help with the work on the Orchard. Many thanks to both.
The Trustees also agreed priorities for more major projects and detail about these will soon be publicised. If anyone would like more information, or wants to join a volunteer list, or just wants to sound off, then contact Ian McCrae at [email protected]
26-Oct-2023: With effect from Monday 06-November, all the Reliance Sunday bus services and the Friday late night bus back from York are being terminated,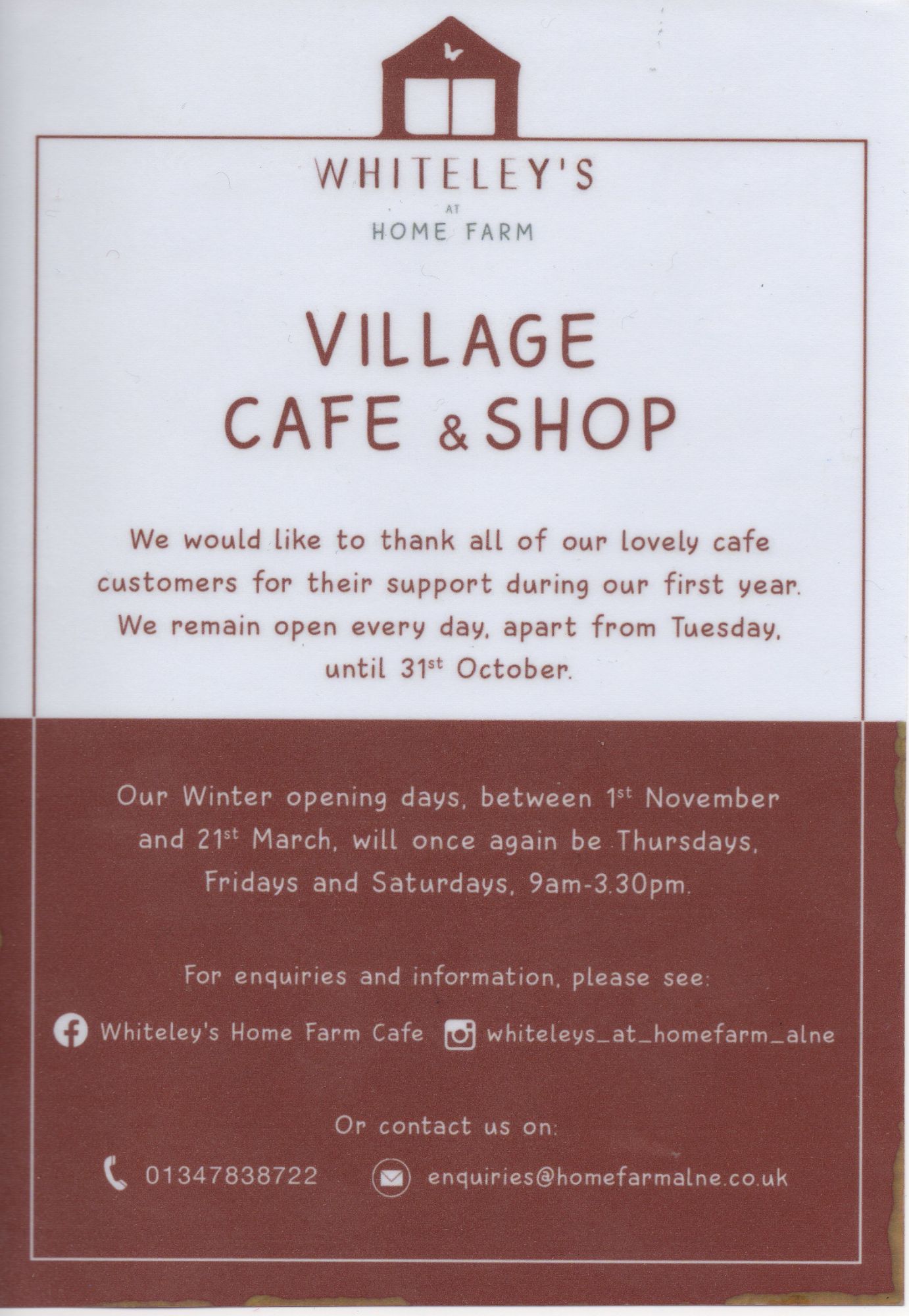 23-Oct-2023: North Yorkshire Council advise that they hope Aldwark Bridge will re-open by the end of December.
21-Oct-2023: The footings are in for the new footbridge across the River Kyle. See the photo alongside.
21-Oct-2023: Whiteley's Home Farm café remains open daily (except Tuesdays) until 31-October, From 01-November, the cafe is open on Thursdays, Fridays and Saturdays, 9:00am to 3:30pm. See the poster alongside.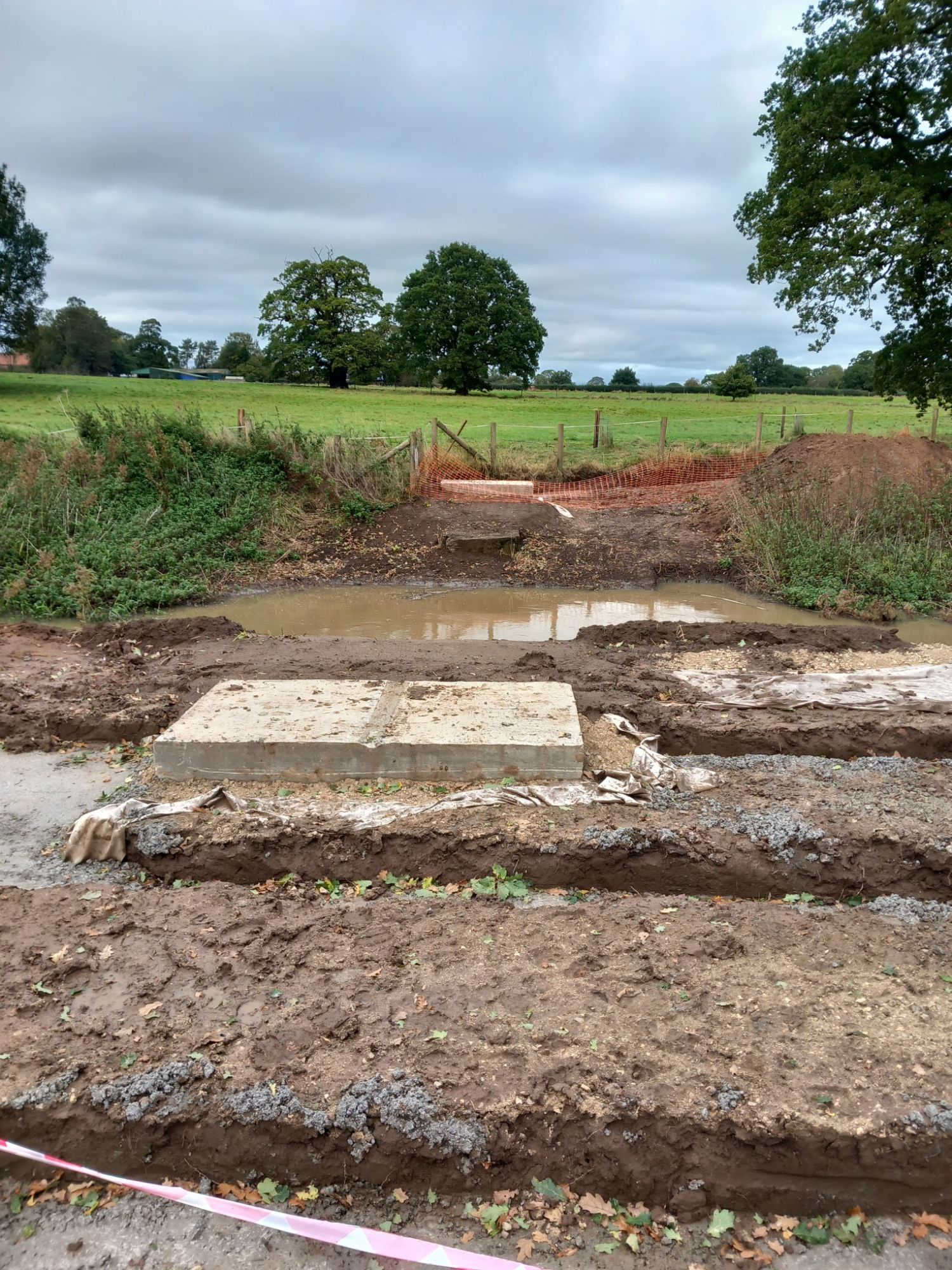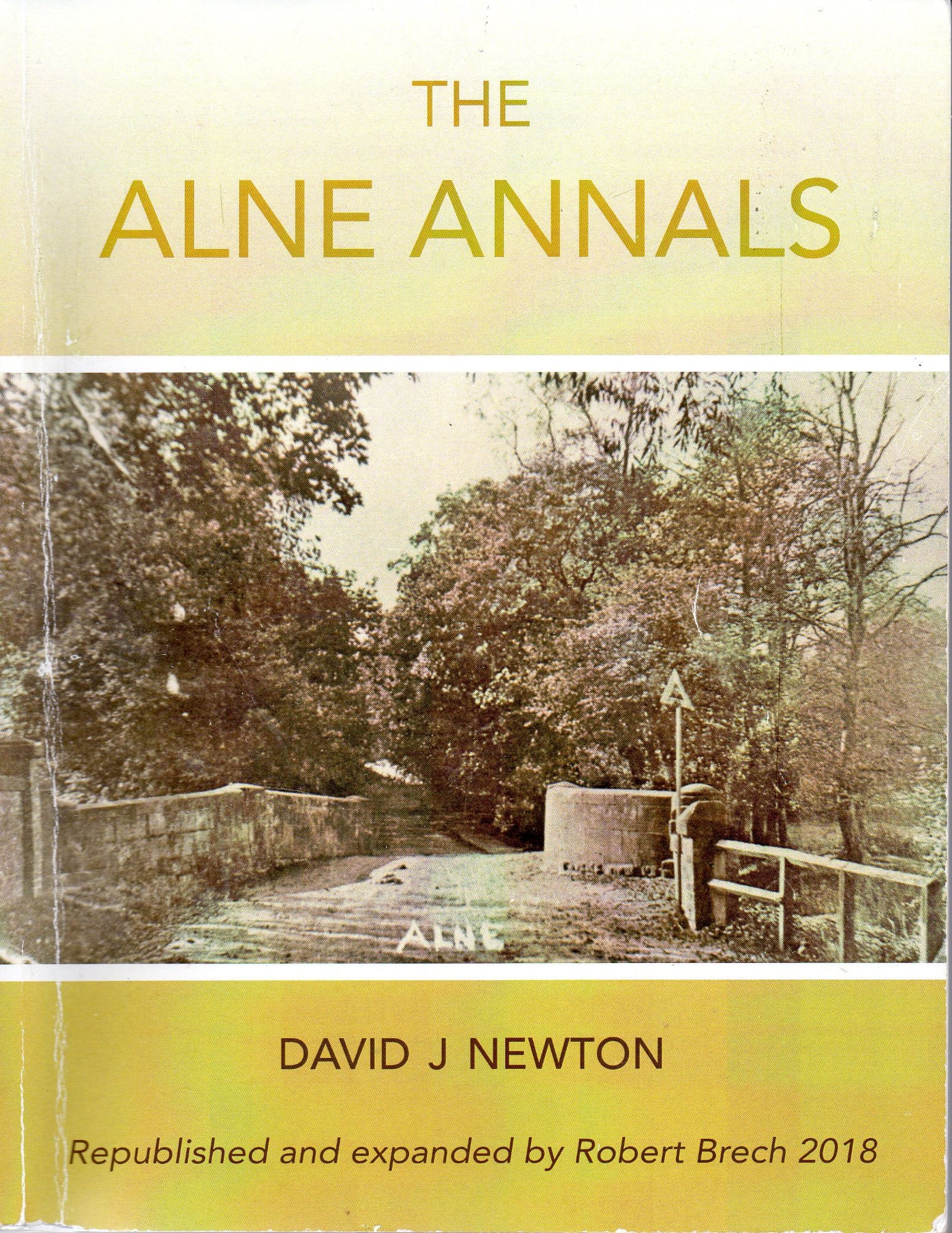 05-July-2023: A new edition of Alne Annals is planned in 2024.
Alne Annals is not a definitive history of Alne but is a collection of tales from many authors and many publications from many sources. It thus forms a fascinating insight into the village and parish of Alne over the years. First created by David Newton in 2002, it was updated in 2018 by Robert Brech with the addition of much new material. The 2018 edition sold out some while ago, however, and the 2024 edition will again include as much new information as we can gather.
Do you have interesting historical stories that should be included in this new edition? Do you have old postcards, photos or newspaper cuttings that haven't yet seen the light of day? Do you want to write something up for the new edition? If so, please contact Robert with all information, before the deadline of 30-September-2023, at 838265, 07724-185661 or [email protected]

Also, if you would like to be put on the waiting list to ensure you don't miss out on getting a copy of the new 2024 edition in due course, please contact Robert as above.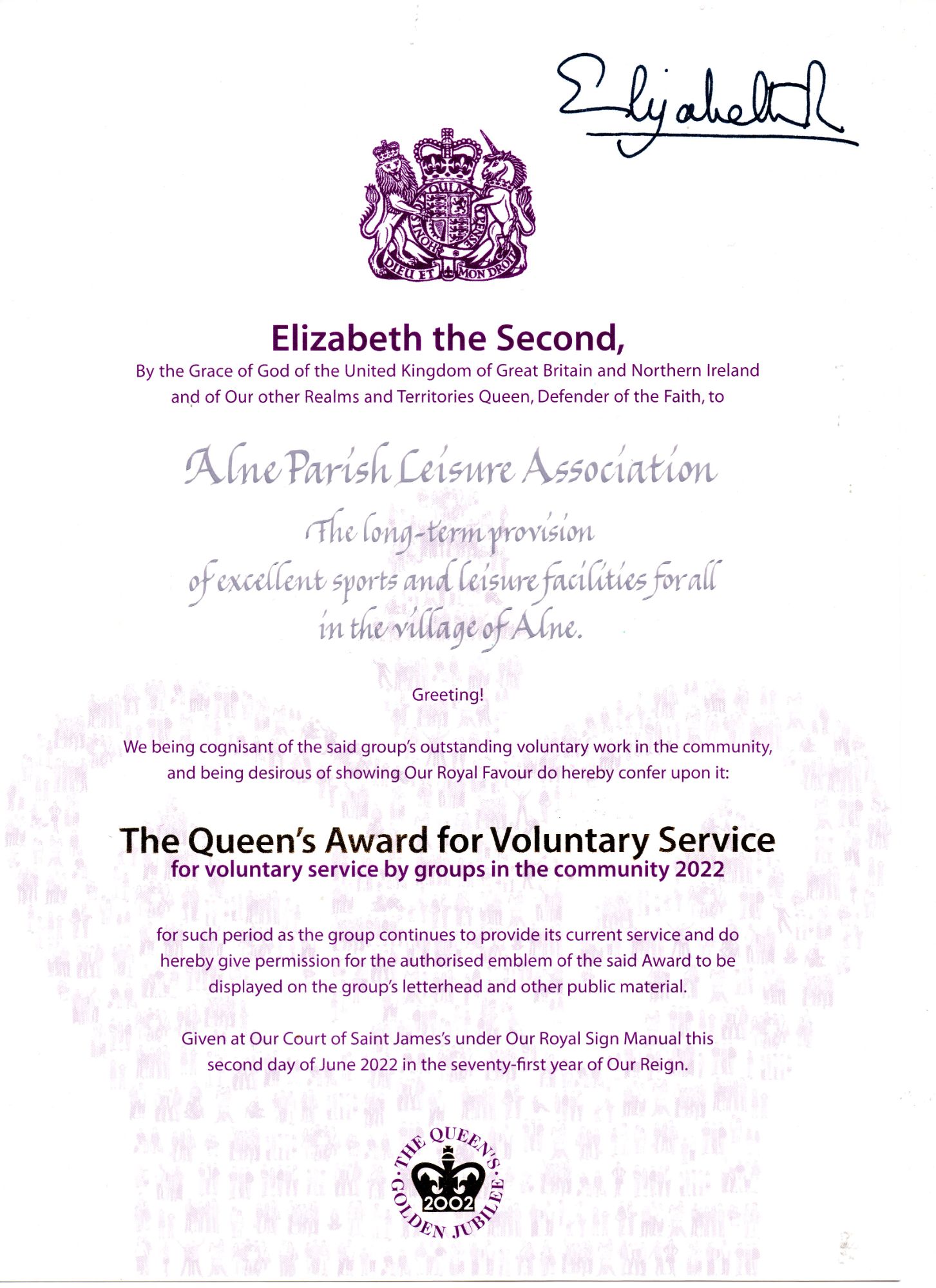 01-Oct-2022: The presentation to APLA of the Queen's Award for Voluntary Service (the MBE for volunteer groups) took place yesterday evening on the Alne recreation field.The rain stopped, the sun came out and a marquee full of sparkling wine and beer provided sustenance to those many folk who took heart and ventured out. The presentation of the late Queen's crystal and a signed certificate was made by the Lord-Lieutenant of North Yorkshire.
Alne Street Fayre: Is the annual fund-raising event for Alne Parish Leisure Association (APLA, UK Charity number 516566) to raise funds for the maintenance and improvement of the Alne playground, recreation areas and sports field. Click on the Street Fayre photo below to go straight to the Alne Street Fayre website.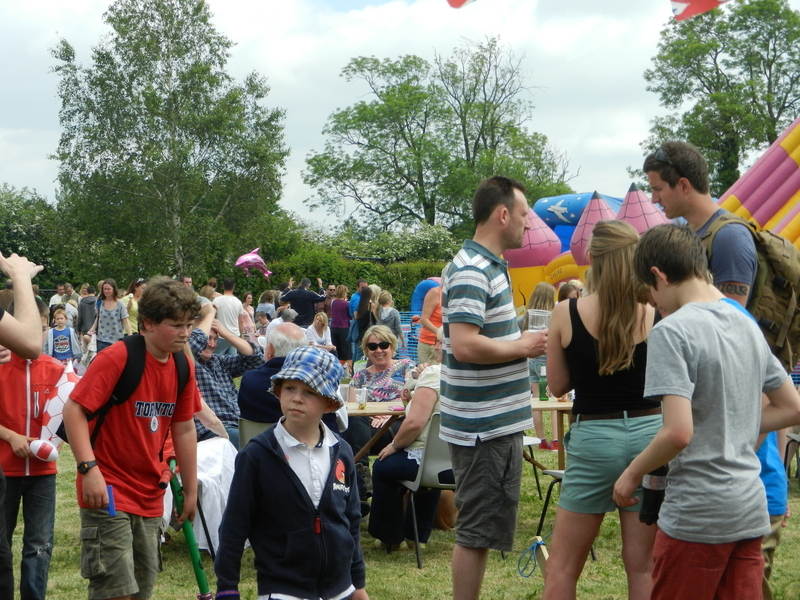 Alne Coronavirus Support Group: If you need help, please contact Eddie Edwards, the central co-ordinator, on 833269, 07583-377276 or [email protected].
Have you missed a recent item? The News Archive is located under the History tab.
See the Calendar of Events for forthcoming items of interest.
Also, please let us know of any events that are planned and we will include them.
This village site is currently paid for by Alne Parish Council but it is not a Parish Council website.
If you find anything out of date or incorrect, please tell us through the Contact page. Thank you.