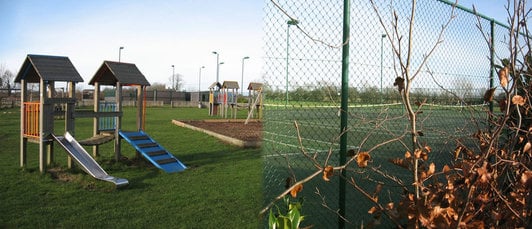 Alne Parish Leisure Association (APLA) is the body responsible for the Alne recreation ground and sports field. It is a UK registered charity (No 516566) and was formed in 1983. Up to date details of the finances and trustees of APLA can be found by going to the Charity Commissioners' website - click here - and entering the APLA charity number.
APLA was awarded a Queen's Award for Voluntary Service in the late Queen's Platinum honours in 2022. This is the MBE for volunteer groups and is a wonderful recognition of the work put in over 40 years by so many volunteers. The citation reads:
"This award is in recognition of 40 years of service by APLA to the community of Alne in establishing, running, maintaining and improving the sports and leisure facilities on the recreation ground in Alne."
For the story of the 40 years of APLA from 1983 to 2023 and how the field came to be purchased, and the recreation and sports facilities established (A5 booklet, loads of colour photos, lists of everything that happened and all the people who have served on the committees, £5 for APLA), contact Robert on 07724-185661 or at [email protected]
The main sports facilities on the recreation field are tennis, basketball, netball and football. There is also an extensive children's play area, a skate park, football field and wildlife area. For more information on Alne Tennis Club (which is part of APLA), click here.
APLA requires a high level of annual funding for the maintenance, insurance and renewal of the recreation field, the play equipment, the skatepark, and the courts. We achieve this through Alne Street Fayre, which is the annual fund-raising event for APLA.
The 2024 Alne Street Fayre will take place on Sunday 09-June. Rated by The Times Newspaper as one of the Top 20 UK Family Days Out, more details can be found at www.alnestreetfayre.co.uk