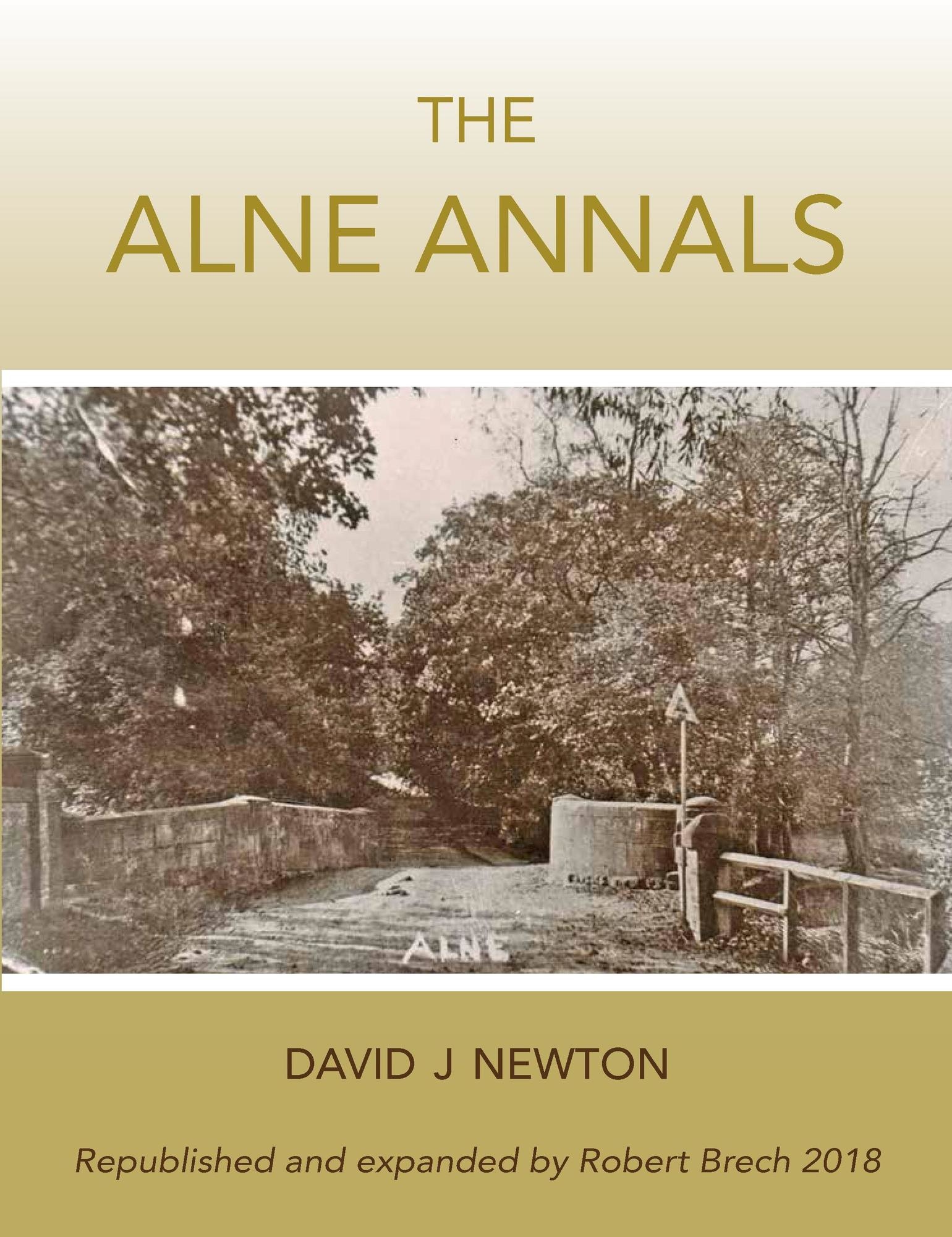 History Item : Alne Annals
David Newton's The Alne Annals was first published in 2002 and was the first time that anyone had put together in one volume the various papers that had been published over the years in local and national papers, parish magazines, learned tomes, countless directories, and just as importantly, in private musings and recollections.
With the kind permission of the Newton family and the financial support of Alne Parish Council, a new edition was published in 2018. This new edition keeps to the same principle as the original but has added a lot more information from many different sources, being more than 60% larger than the original; it includes stories about life in Alne in the 1940s and 1950s, the old shops and post offices, the 1944 bomber crash, Alne station and the railway, the vicars of Alne, Alne Cricket Club, the schools and Village Hall, the War Weapons Committee and the Coronation Committee. It also features many old photos.
The book is not a history, it is not a chronology but it is a collection of tales from many authors and publications from many sources. It thus forms a fascinating insight into the village and parish of Alne over the years.
The 2018 edition is now sold out. Send a message through the Contact page if you would like to be kept informed when a new edition is planned.
As new information comes to light, this page will be used for any updates:
23-Mar-2022: Your editor has been keeping a diary of the Coronavirus plague in Alne and how it compares to earlier such events. This will doubtless form the basis for an article in a future edition of Alne Annals.The 7th (and hopefully final) chapter of the Diary of the Coronavirus Plague in Alne, and all earlier chapters, can now be read by clicking the chapter. Chapter 7 includes a one-page timeline summary.
Chapter 1. Chapter 2. Chapter 3. Chapter 4. Chapter 5. Chapter 6. Chapter 7.
20-Oct-2021: Chris Bond's personal story of his channel swim can be found by clicking here.
02-May-2021: Alne Annals reader Rosemary Kitchman has written A Brief History of The Maltings in Alne. This will doubtless appear in a future edition of Alne Annals. Click here to read it now..
10-Sep-2020: Railway enthusiasts will be interested to learn that your editor has picked up a copy of the itinerary of the Branch Line Society's tour of Alne, Easingwold and the lines through Gilling to Kirkbymoorside and Malton which took place on 02-June-1957. There are photos and a commentary on this event in Alne Annals pages132/133. Click here if you want to read the detailed itinerary. It has been transferred from foolscap so you may need to increase your pdf zoom.
18-Jun-2020: Erratum. p122. Hallgarth was built in the mid-1990s rather than the early 1980s. I am just about to move there!
07-Jan-2020: A research project dating some of the old photos of Alne Station can be read by clicking here.
31-Dec-2019: Two important contributors to Alne Annals died in 2019. David Whiteley, Home Farm, on 15-May-2019, aged 83, and Rhoda Dawson, daughter of the Ryders (postmasters 1943-1968) on 16-June-2019, aged 93.
22-Nov-2019: A short historical project on when the old pond at the east end of the village was filled in has been completed and can be read here.
04-Nov-2019: A descendant of the Strangewayes family has pointed out that his grandfather was called Darcy, not Digby as mentioned in the article by Rev William Norman (p33 refers). I have been in touch with Bill Norman (93, alive and well and living in South London) and he confirms that this is indeed an error.
28-Oct-2019: The story of the restoration of the ancient village verges (p172) is now complete and can be accessed here.
29-Nov-2018: Updated. A photo of the steam engine boiler explosion that took place at Alne station in 1877 will doubtless feature in later editions of Alne Annals. Have a preview by clicking here.
08-Oct-2018 : Re the Home Guard photo caption on p115, the person identified as David Almgill (back row, far left) is actually Alf Tenniswood (from Tollerton). 3rd from the left in the middle row is his brother Arthur Tenniswood.