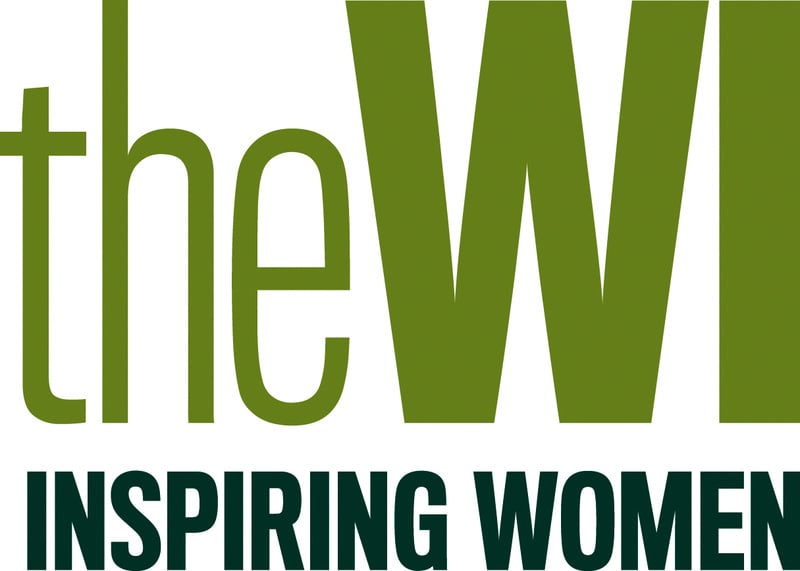 Alne WI meets in the village hall at 7.30pm on the second Wednesday of the month.
Open to women of all ages we enjoy a programme of interesting talks, demonstrations and dinners, as well as courses and events organised by North Yorkshire East Federation and the opportunity to get involved in national campaigns. Meetings are always open to family and friends (£3.50 fee) and twice a year we have an Open meeting which we hope will also appeal to the men (£3 fee).
Please feel free to come along to our meetings as a visitor, you are guaranteed a warm welcome as well as a fun and interesting evening. For more details contact the Secretary Diane Hunter 07568-067589 and [email protected] or Joan Baram on 838805.
Alne WI will be resuming meetings in Alne Village Hall on 8th September at 7.30pm. Click here for details.
WI meetings give members the chance to try new activities, listen to speakers on a range of topics and campaign on issues that matter to them.
Alne WI welcomes new members; come and join us. (£3.60 for visitors)
March 2022 WI Meeting
Alne WI met on 9th March in Alne Village Hall.
Joan Baram, President, welcomed members and visitors.
After some brief notices and business items Joan welcomed local artist, Jenny Dalleywater, to lead the evening's activity on 'Scratchboard Art.'
Scratchboard art is a way of creating a picture using a sharp tool to engrave on a special board with a black surface layer and white under layer.
WI member Jenny is a keen scratchboard artist; she explained the process and showed us some of her own work, which was very detailed and accomplished, we were impressed.
Jenny provided each of us with a small board and sharp engraving knife and then invited us 'to have a go' and create a simple picture. Some of us were a little unsure, but under Jenny's guidance we settled to the task.
The room became very quiet apart from the gentle sound of scratching as we became engrossed in the task and enjoyed spending time being creative. The results were awesome
We ended the evening with social chat tea and cakes, provided by Sue Ward, Nancy Burch and Gill Charlton. The almond and buttercream gluten free sponge cake was particularly awesome.
The next meeting is on 13th April 2022 at 7.30pm in the village hall. We are going to try Bhangra Blaze – a type of traditional Indian folk dancing / exercise that can be done standing or sitting. It's great fun and has uplifting music.
Visitors are very welcome, maybe bring a friend - cost £3.50
You might want to wear something comfortable or even get into the spirit and wear Indian style dress.
Alne WI resumed meetings after the New Year on 9th February 2022
We were given a warm welcome back by our President Joan Baram, with a room layout, organised by the committee to help with acoustics, which turned out to be a big success. We had several apologies and gave a warm welcome to visitors. The meeting was our AGM.
Helen Ormerod, Alne WI Treasurer circulated print outs of 2021 Financial Statement & explained the calculations. This must have been a headache of a task, as like everything else last year was beset by Covid issues. Helen and Bill (Helen's husband) did a wonderful job.
Joan Baram thanked Helen & asked her to thank Bill for their very much appreciated job, which was seconded by every member.
Di (Hunter Secretary) then gave us all WI news and updates (minutes of the meeting are available). Di explained the ethos of The WI is an inclusive, supportive and progressive organisation for all women with a diverse membership of over 190,000 members.
Di stated that here at Alne we also try to include in some form, an element of fun & joy into our meetings.
Joan then advised that it was time to vote for a new committee but confirmed that many committee members were happy to continue in their present roles. Jenny Rudd has decided to step down as Vice President but thankfully is very happy to stay on the committee. It was with great sadness that members heard, Jean Macrae is standing down from organising our outings. Jean has been involved in this for 50 years! and done a most excellent job.
Gill Charlton stepped down as programme organiser and Marion Roberts will no longer organise the order for WI bulbs, a job she has done for many years.
A secret vote was taken for volunteers to take on the vacant roles, we await next meeting to confirm appointments.
Joan concluded the AGM by announcing a fun game of "Bingo".
We finished with supper provided by the Committee & the drawing of the raffle.
Next meeting is on 9 March 2022 at 7.30 in the Village Hall ( second Wednesday of every month)
Speaker Jenny on Scratch Art (all equipment provided)
Hostesses Sue Ward & Nancy Burch
Sue Ward, Alne WI
The gavel was gently brought down by our President Joan, who started our November meeting by recapping our wonderful 95th anniversary celebration.
Joan introduced our speaker: Jean Yorston and her talk on Base Camp Everest
Jean is one of our members, I remember at one of our meetings asking what she had been doing since last month. "Oh, I went to Base Camp Everest" not an answer I was expecting!
Jean who is 79 YEARS YOUNG joined her daughter, her granddaughter and her daughter's friend to make her expedition. Jean packed her bags, including fleeces, walking boots and outdoor clothes that had been donated for the Sherpas, which at Heathrow were distributed through everyone's luggage. The flight was delayed, which in turn meant they missed their connecting flight from Delhi to Kathmandu. The airline promised if they flew to Calcutta there would be a hotel in the airport & they would fly them back to Delhi the next day.! Unfortunately, the hotel didn't exist, they slept on a very thin carpet on a floor! They did fly the next day, Calcutta-Delhi -Kathmandu, into the most dangerous airport in the world onboard a 16-seater plane filled with passengers and carrots! First stop a toilet.
The party was met by their Sherpas. A good meal & nights rest prepared them for the 5 hours trek the next day. They were told they must always stay on the inside of the pathway as a sheer drop was on the other. They were passed by men and Yaks, carrying an assortment of goods, fridges, freezers, carrots etc everything must be carried to base camp, there are no roads. Jean did 4 more treks, ranging from 7 to 4 hours a day, including crossing 3 suspension bridges (no mean feat for someone afraid of heights but her strong faith got her across), unfortunately, as the air was getting thinner and the thought of holding the party back, Jean made the decision to return to Kathmandu. 2 Sherpas brought her back, who respectfully, referred to her as Momma Jean.
Jean is still bemused that so many people wanted to have a selfie photograph with her. Jean was an amazing speaker and inspirational person.
Maggie and Helen provided us with a wonderful supper to round off the meeting
Afterwards the annual (much anticipated & enjoyed) charity Tombola organised by our President Joan was held. This year the fantastic sum of £145 raised will go to the Motor Neurone Disease Charity.
Next meeting Wednesday 8 December - Christmas Fun
Visitors (£3) always given a warm welcome
Alne WI 95th Anniversary Celebration
Alne WI celebrated its 75th anniversary with a visit to historic Ripon and afternoon tea. Some of our members had grown up, had family, or had taught in Ripon, so were able to share interesting, educational facts & personal memories, the very best way to see a place. The city had been "yarn bombed" with poppies, which added to its beauty.
The 12thCentuary cathedral was the focus of our visit; the cathedral is full of history, beautiful windows, interesting architecture but still retains, its gentle, calm reflective spirit. The choir screen was a delight and we learnt that Lewis Carrol's inspiration for the white rabbit going down a hole in Alice in Wonderland came from a carving on one of the wooden pews! We completed our visit with an outstanding afternoon tea in The Yorkshire Tea Room, (how daunting for them, 22 WI members!). They rose to the challenge magnificently. We had a wonderful time as the photographs show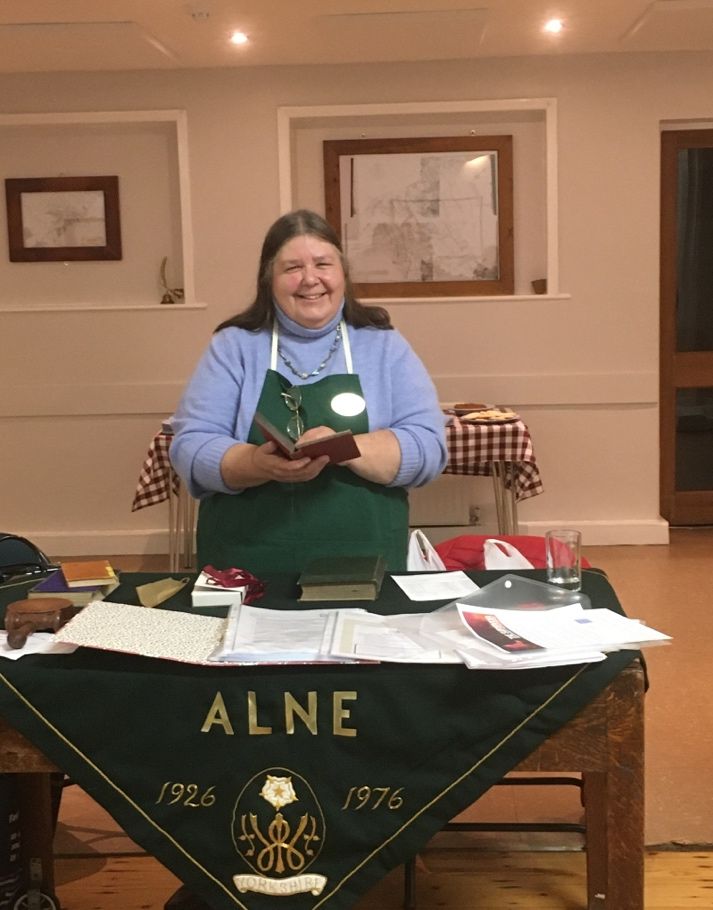 October 2021 WI Meeting
This month's meeting was opened by Joan Baram (President) once again being in charge of the wooden gavel (the little things we missed in lock-down). The meeting was well attended, Joan warmly welcomed members old & new plus visitors.
Patricia Stafford NADFAS Volunteer Book Conservator. (Also, an Alne WI Member)
Patricia started her talk by explaining how answering an advertisement and being successful at interview, her Volunteer Book Conservator journey began, with the first mantra of no makeup, or nail polish allowed.
After 5 years of extensive training (the first year only being allowed to master brushing the spines of books) she was allowed to handle books alone. Patricia was and is based at York Racecourse Library, a muttering of where? York Racecourse apparently has a small library which is lucky to be the home to some of the oldest books in the world. The year Royal Ascot was closed & the meeting was held in York, The Queen visited the library, loved it & even coveted some of the books it contained. An extra jewel for York, to add to its Minster Library.
Patricia's talk was fascinating, entertaining and informative full of anecdotes. Patricia gave helpful but practical book care advise, for example, never store/display books near a real fire, the insects that are on logs, silver fish, wood lice & soot can cause irreparable damage, books are better if they are laid flat so as not to damage their spines and definitely keep them away from too much light etc. Patricia's husband Bob very kindly assisted with showing the photo slides.
Next meeting Wednesday 10th November - Speaker Jean Yorston who will talk about her expedition to Base Camp Everest. Visitors (£3) are always given a very warm welcome.
Alne WI 2021 Garden Party
It was sunshine and smiles all round when Alne WI ladies celebrated their first meeting since March 2020 with cocktails, mocktails and canapes in the garden.
WI members Gill Charlton and Nancy Burch hosted the event, taking care to keep members safe. They served a selection of creative alcoholic and soft drinks along with a huge range of homemade canapes. Members had a great time, relaxing in the sunshine and catching up with everyone's news.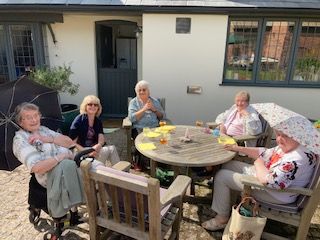 Alne WI President, Joan Baram, welcomed everyone back to WI and presented a bouquet of flowers to three long-standing members to thank them for their loyalty and commitment to Alne WI over the years.
Jean Macrae, Marion Roberts and Mary Tym have each belonged to WI for well over forty years and each has served on the committee at some point during their long membership.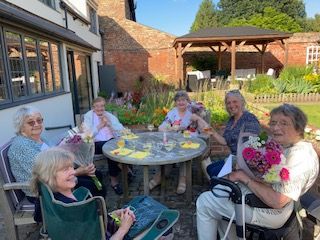 Click here to see what Alne WI have been up to during Lockdown.
We always like to have suggestions from members and we do our best to follow them up.