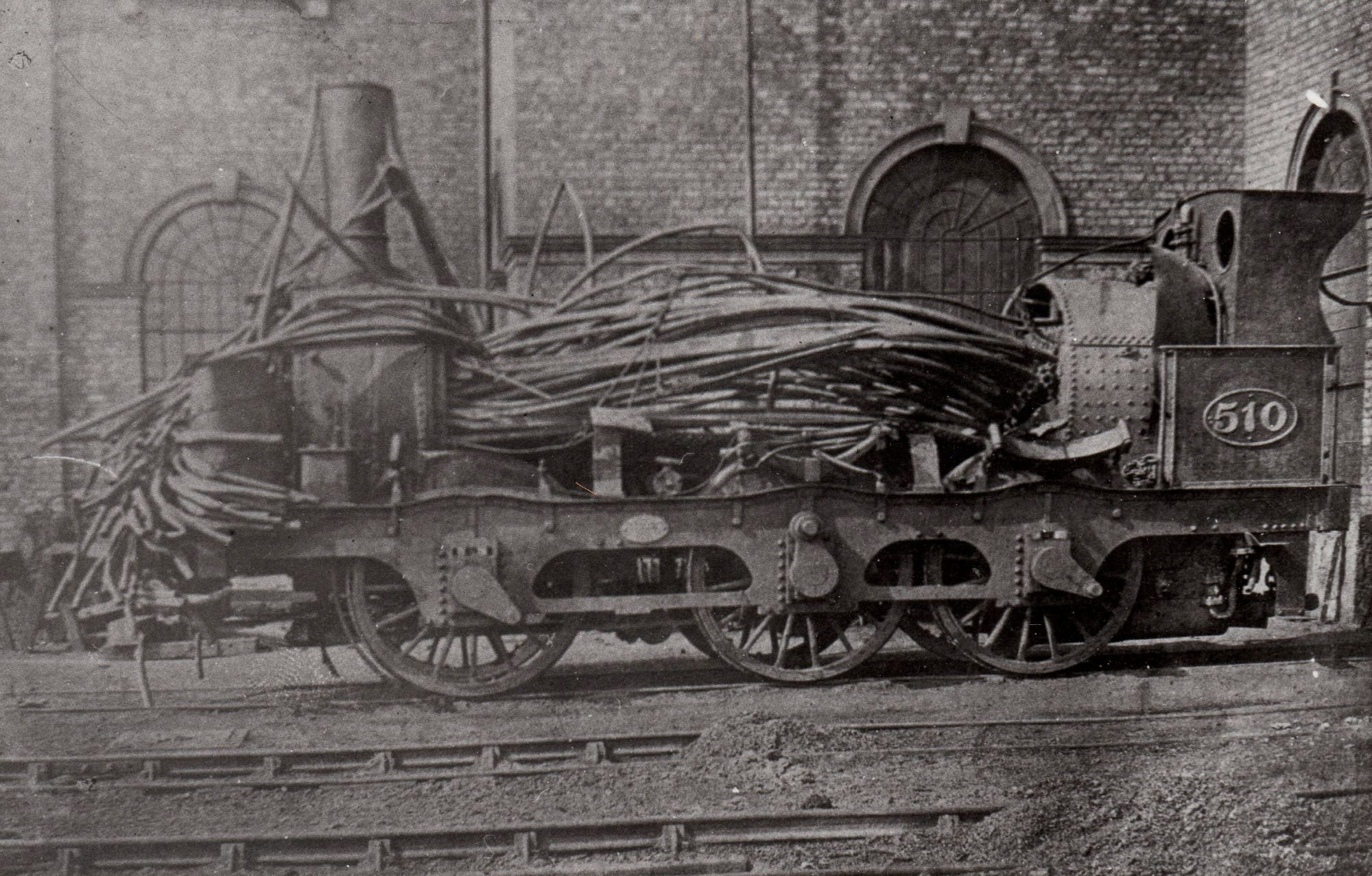 New History Item : Autumn. 2018
The North-Eastern Railway became notable for the number of boiler explosions that took place involving its engines. This one took place at Alne in 1877 as 0-6-0 No. 510 was working a Darlington-Normanton goods. Parts of the boiler were discovered over a wide area on both sides of the line, the most distant being 539ft from the water column where the engine was taking water. [Ken Hoole, Trains in Trouble Vol 4] .
My photo of the remains of the engine is dated 28-Mar-1877 and the arched porticos behind the engine have now been identified as those of the repair workshops in Darlington. The full story can be read here.
A full index of Alne Parish Councillors from 1913 is now available. Click here to read it.
If you have a postcard or photo that you would like us to feature on this page, please contact us through the Contact page. Thank you.
The 2011 archaeological survey of the west tower of Alne church is now available. Click here to read it.
Alne is a small village situated halfway between Thirsk and York. There are about 275 households in the parish and in the 2001 census the Parish of Alne had a population of 711.
Alne was mentioned in the Domesday Book, and in 1823, Baine's Directory of the County of York said 'This village [Alne] takes its name from the Latin word Alnus (the alder tree), it being situated in a low swampy country, which formerly abounded with alders, and thence it was called the Forest of Alders. Pop. 386.'
In the early to mid 19th century, the parish of Alne was a thriving community and a railway station opened on 31st March 1841. By the early part of the 20th century, Alne was said to be virtually self-supporting, with four grocery shops (including a post office), two saddlers, a basket maker, a cobblers, a blacksmith, two joiners, two dressmakers and a tailor. There were four pubs, the Fox & Goose and the Blue Bell Inn near the centre of the village, and The Station Inn and the Railway Inn at Alne station. At the station, there were six stopping trains daily, in each direction.
Website Winter Wednesday Wise Words #3
It's not me that can't keep a secret, it's the people I tell!
Abraham Lincoln.
I like this amusing and self-deprecating comment – and it is so true!