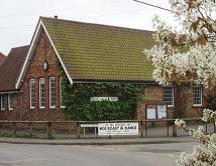 Alne Village Hall was formerly the village school, built in 1877 on Glebe land.The school was formally made over to the Archdeacon of Cleveland, by deed, as a Church of England School. It became the much used community building in 1972, when the pupils moved into a new school building.
Of note is G. J. F. Newey's lovely time piece, possibly installed in the 1880s, showing the time inside and outside the hall. The clock is still wound up weekly, and keeps good time, in particular after its repairs and renovation in 2012 by Mr Carter and Mr Bacon. Generous donations by local villagers helped fund these repairs.
Over the years, various extensions and improvements have been made to the Village Hall to keep up with modern times and community needs. Indeed, the hall is currently being upgraded once again to a building fit for the 21st Century, including aiming for a smaller carbon footprint.
The Village Hall is a registered charity and managed by a dedicated group of volunteers. The management committee consists of: Cassandra Bullock (chairperson), Rosemary Ness (Secretary & Treasurer), Shelagh Kenny, Maggie Soper, Jean Macrae, David Lepper and Margaret Gobbi, In addition, people in the village kindly offer their skills and time to help with such ongoing tasks as tidying around the village hall, some spring cleaning and minor repairs, and winding up the clock! This is very much appreciated.
Hiring the Hall : You can hire the hall for your own parties, classes, or meetings, etc.
Contact Rosie on [email protected]
Village Hall hiring conditions can be found by clicking here.
***************
The main hall: Alne residents: £12.- per hour; non - residents: £20.- per hour
The lounge: Alne residents: £10.- per hour; non-residents: £12.- per hour
For a donation to our renovation fund, you can also hire our crockery, glass ware and cutlery and tables/chairs for those larger private events at home.
General Contacts:
Secretary and Bookings – Rosie Ness [email protected]
Chair – Cassandra Bullock [email protected]
Bakery Van parks up outside the village hall every Saturday 8 to 9 am - delicious breakfast sorted!
Weekly classes and who to contact:
Monday mornings: Yoga (Laura Colenso 07973-524902 and [email protected] ), 09:00 - 10:15, 10:30 - 11:40
Monday evenings: Pilates (Gemma Darley) [email protected]
[Tuesdays pm: Brownies, currently on hold]
Tuesday evenings:Yoga (Debbie Jenkins) [email protected]
Wednesdays pm: Rainbows, Contact Gemma on [email protected]
2nd Wednesday of the month: Alne WI, 7:30pm - 9:30pm. Contact Diane Hunter on [email protected]
[Thursday evenings: Alne Singers, 7:30pm - 8:30pm [email protected] ]
Friday mornings: Little Worlds (Nicola Hutchinson & Abbey Boothroyd, [email protected] ), 09:00 -11:45
Saturday & Sunday 9:30 - 1:00pm FURRYTAILS Dog Training Classes. Jo Woodward - [email protected] 07973-216148 www.furrytails.dog



New double doors in vestibule (Feb 2019)
Painting of entrance hall and toilets (Jan/Feb 2019)
Toilet renovations completed (Dec 2018)
New guttering and repointing and painting of outside windows etc (April/May 2018)
Comfy chairs for new lounge (October to March 2017/18)
The Strawberry Teas (July 2017) to celebrate the new room was well attended.
New Lounge (July 2017): A grant from WREN has created a new meeting room with separate entrance and toilet - the old kitchen.
New flat roof (May 2017): A grant from Awards for All enabled a new flat roof, with much better insulation.
New fire door: (Mar 2017):A grant from NYCC will help install a new fire door. Thank you.
Renovating old kitchen (Dec 2016): Thanks to a grant from WREN we can complete this project, starting spring 2017.
As well as being regularly hired out for private parties and events, the Village Hall is the venue for the popular and regular pop-up pub, and further events as listed above. If you fancy setting up a group or activity based in the hall, or to book the hall for private parties or events, please contact the Bookings organiser.
Supporting our Village Hall: you can support the village hall by purchasing a lottery ticket (contact Jean 838406), with a monthly draw. We always welcome you giving a bit of your time to help with some of the maintenance jobs, such as cutting back the plants outside, scrubbing down walls, steaming the chairs, painting etc.
And most importantly - come to our events in the Village Hall - Thank you in advance!